This project is proudly supported by

16 July, 2017
Yesterday, with the help of a fellow educator Pedro, ran the Obscura, Origami and the Origins of Images workshop. There was a small turn out with parents, but this gave us an opportunity for more one on one discussion. All the young learners were quite excited by the theatre of the camera obscura and we had a great discussion about how the camera started, what we were seeing and how light travels and the eye works. We then moved onto discuss and have a closer look at some different types of image making and the kids had a look at some film and some old style cameras. It was really exciting to hear one of them explain how the camera worked having not used or seen one before.
We them moved onto making our cyanotype experiments in the sun outside and then our origami animals.
It was such a pleasure to learn from them about what they know about photography as most of them only know image making through smart phones and sometimes digital cameras.
Below are some shots (taken with my phone!) of the workshop.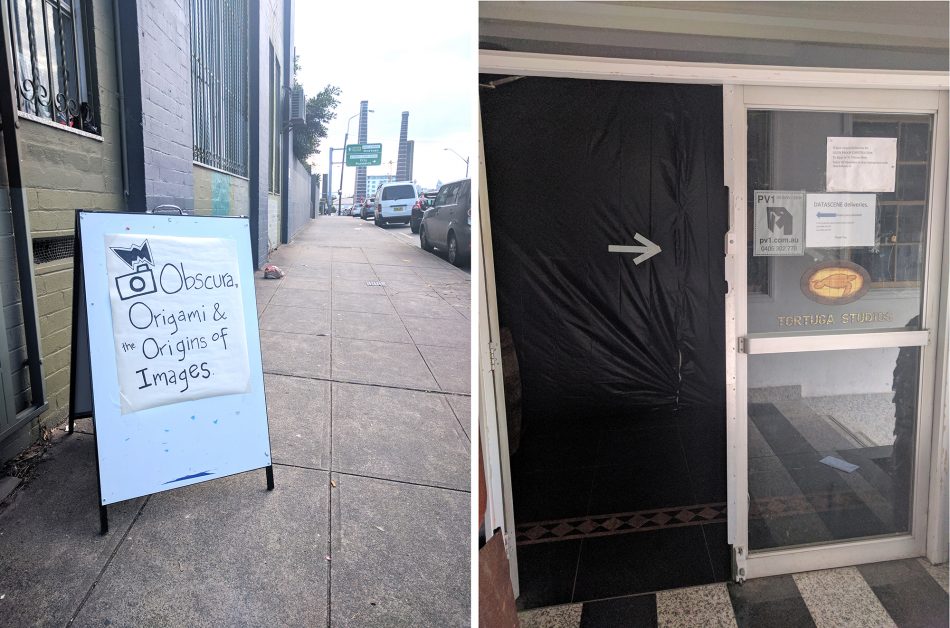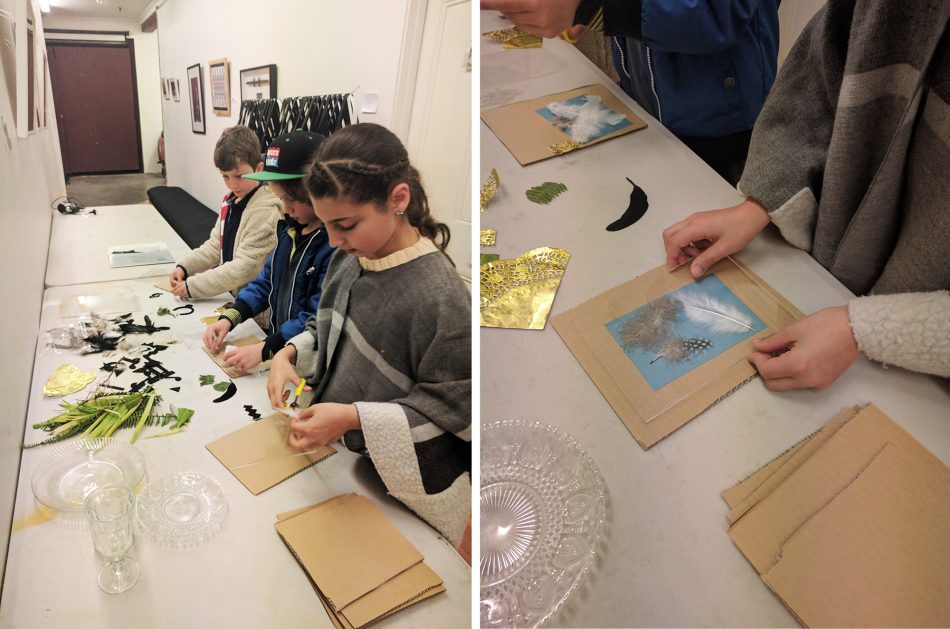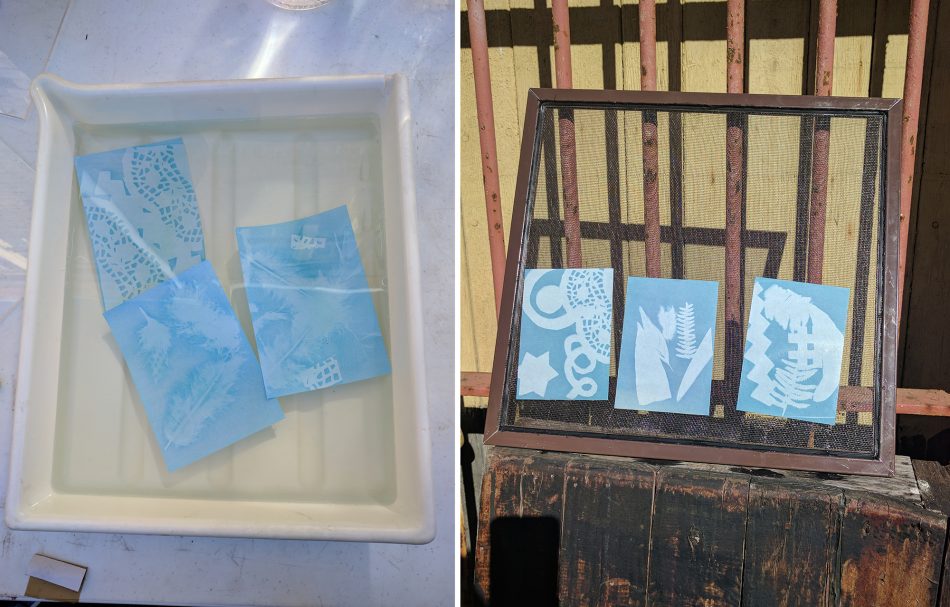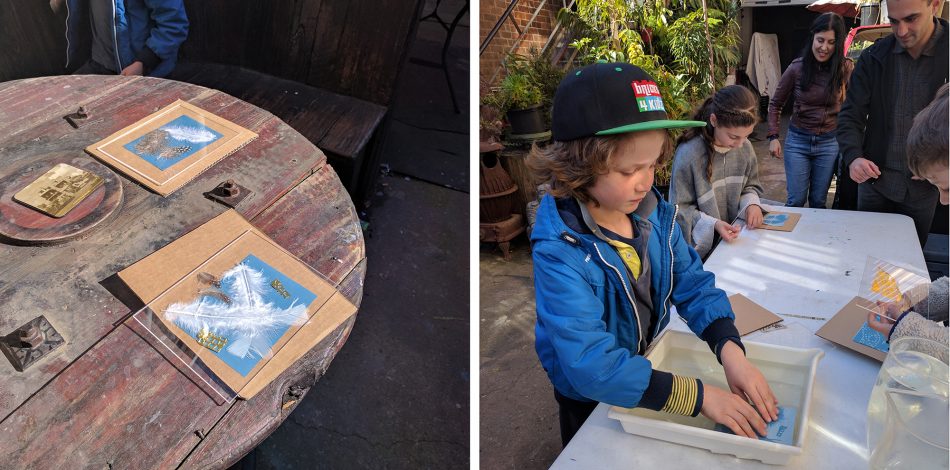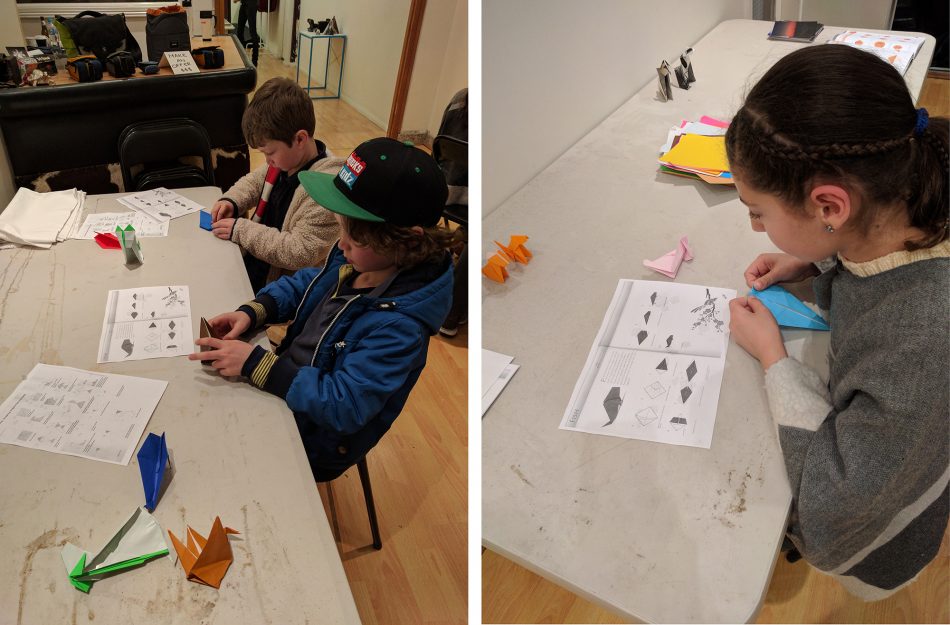 14 July, 2017
Today is Camera Obscura install day at Tortuga! It was a huge undertaking on my own blacking out the front gallery, but I got there in the end, and it was so exciting to see it in action! Tomorrow is going to be a fab day!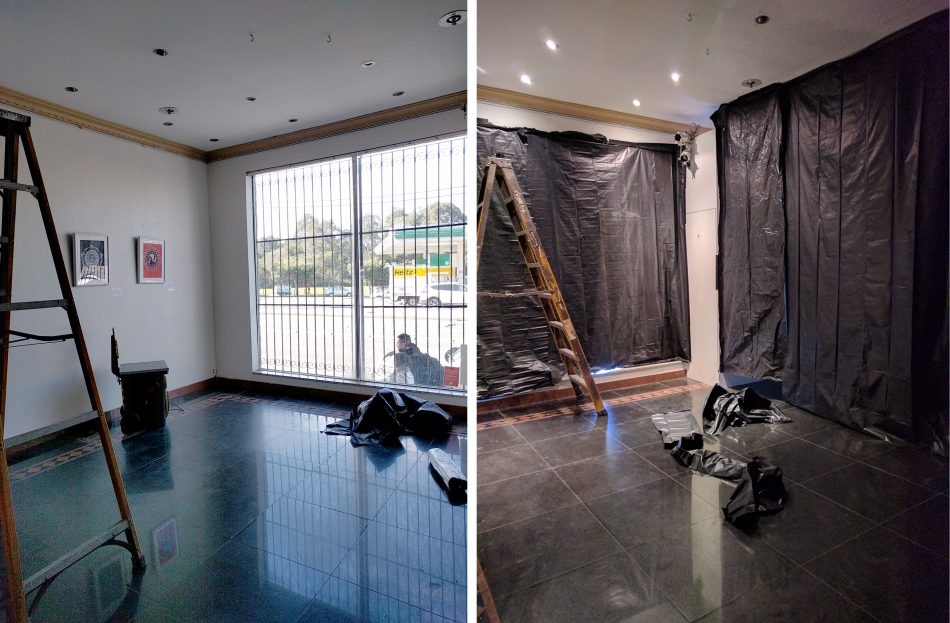 28 June, 2017
Progress has been a little slower in the last few weeks on my project, instead I have been in planning mode for my upcoming Obscura, Origami and the Origins of Images workshop for kids this July school holidays. I think its going to be an exciting afternoon, I am planning a room sized camera obscura at Tortuga Studios in St. Peters and then some chemical free image making using Sunprints kits, which is an easy take home cyanotype kit and then making origami animals from our prints. The workshop will be based on the project I am working on at Think Negative. Below are some of my own cyanotype test prints!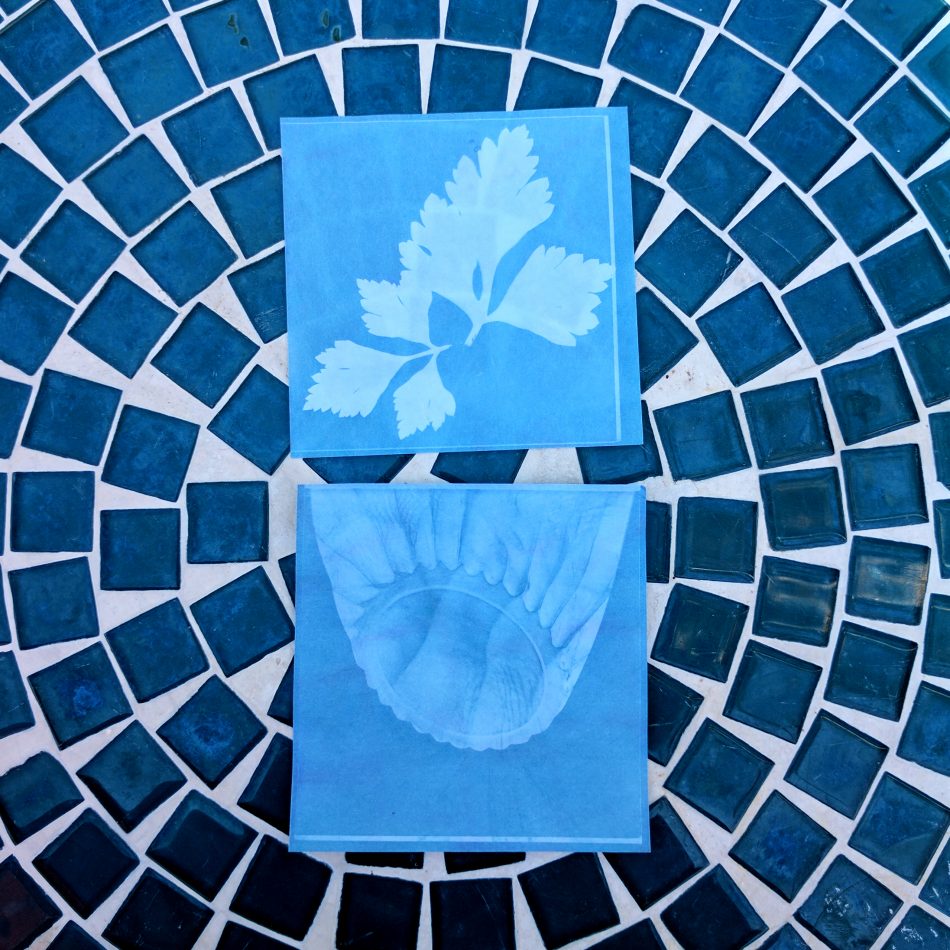 28 May, 2017
It's been a difficult road, but I eventually got there and have managed to make a head out of clay as my prototype for the sitting dog version of this project. I think the next steps will be to make a 3D render and see if there is someway to print out a template that is easier than cutting bits of cardboard until they fit!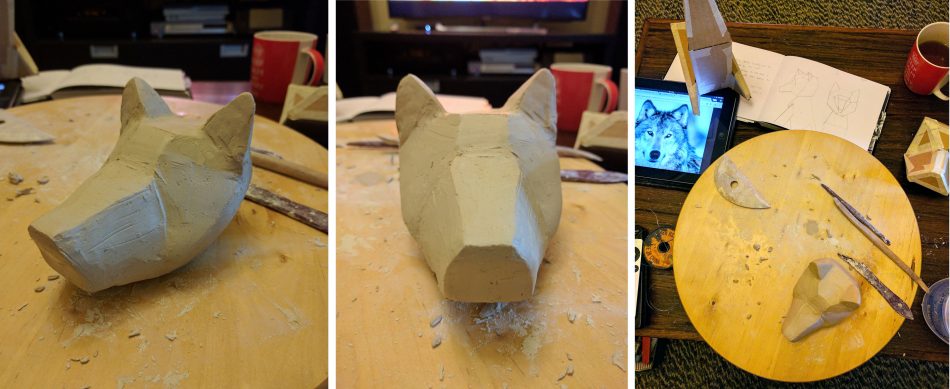 6 May, 2017
An excellent day in the darkroom! The Kadusama modules turned out better than I expected and I am really excited for this new little side project. I cant quite figure out what I did the first time when they came out almost black, but I think these look fantastic. I especially like the symmetrical ones.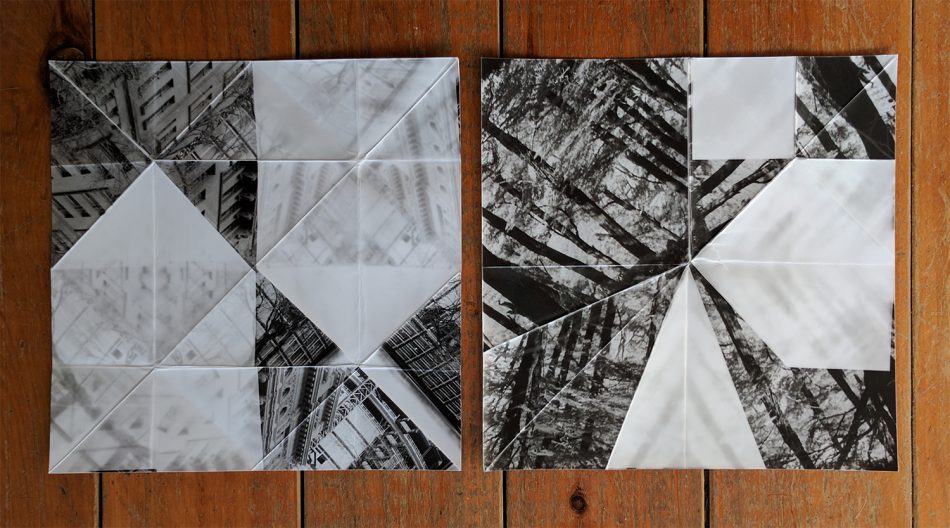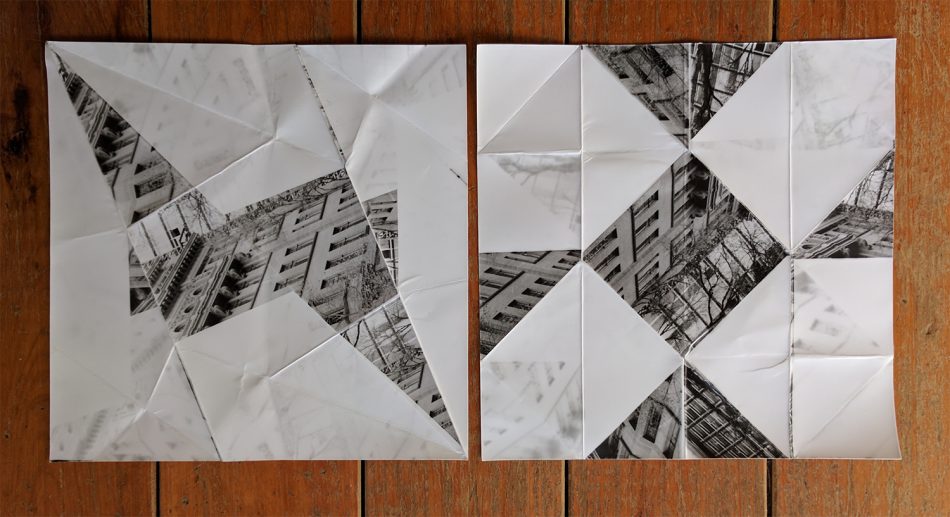 3 May, 2017
Thinking about origami and photography again today. Came across Kadusama and modular origami in my googling. A multiple which make a whole, I like the synergy to my project. Might do some of these in the darkroom  as part of my my printing practice this weekend rather than regular flat prints. Plus I'd like to see what happens!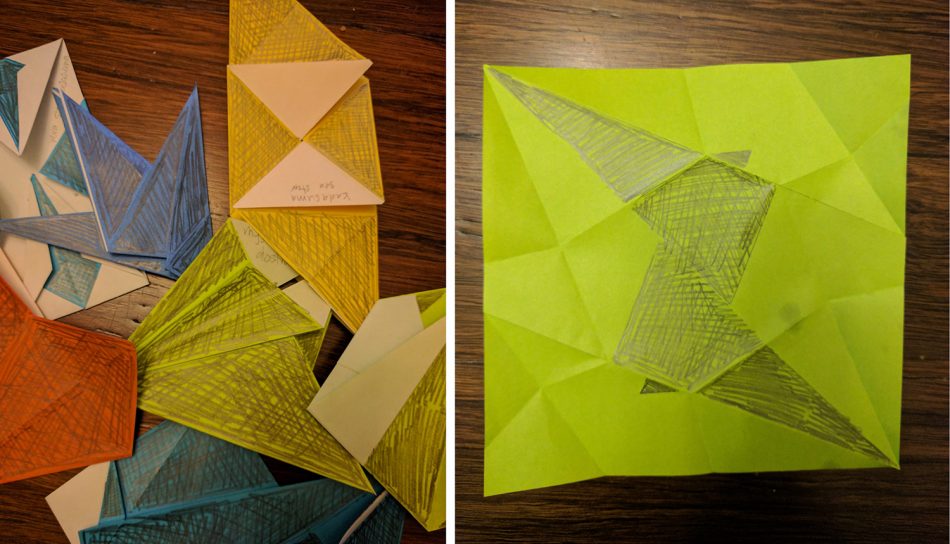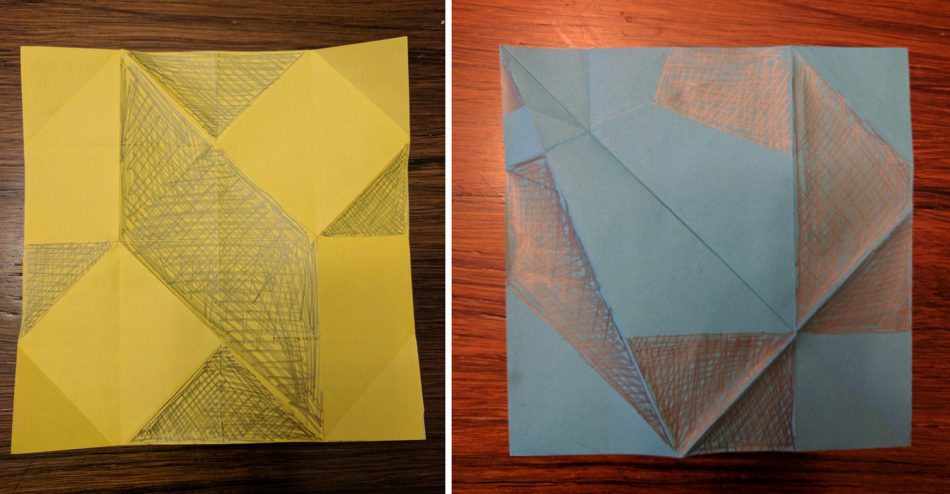 1 May, 2017
Having trouble designing a head for my cardboard dog, the first was no good and the second looked like a bear and all of them were about 20% to big for the body! So I've been doing some sketches and now I am going to make one out of clay next, at least this way I can correct my mistakes more easily!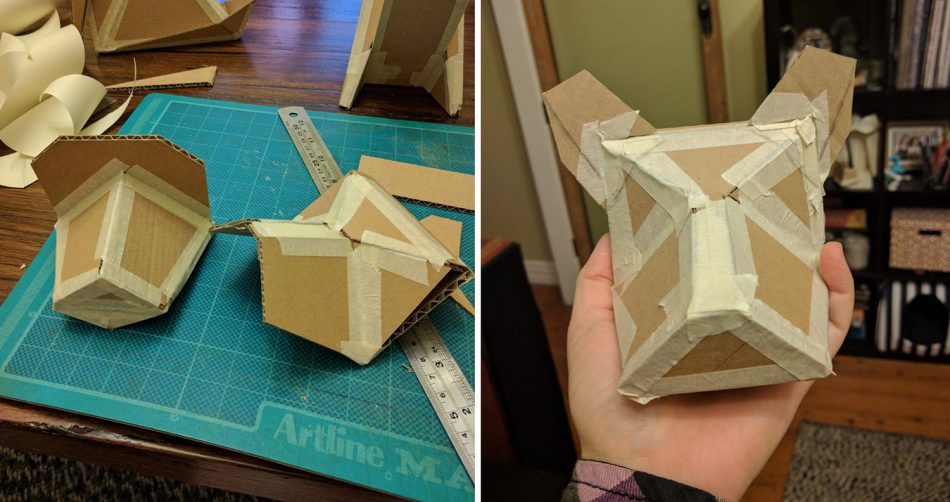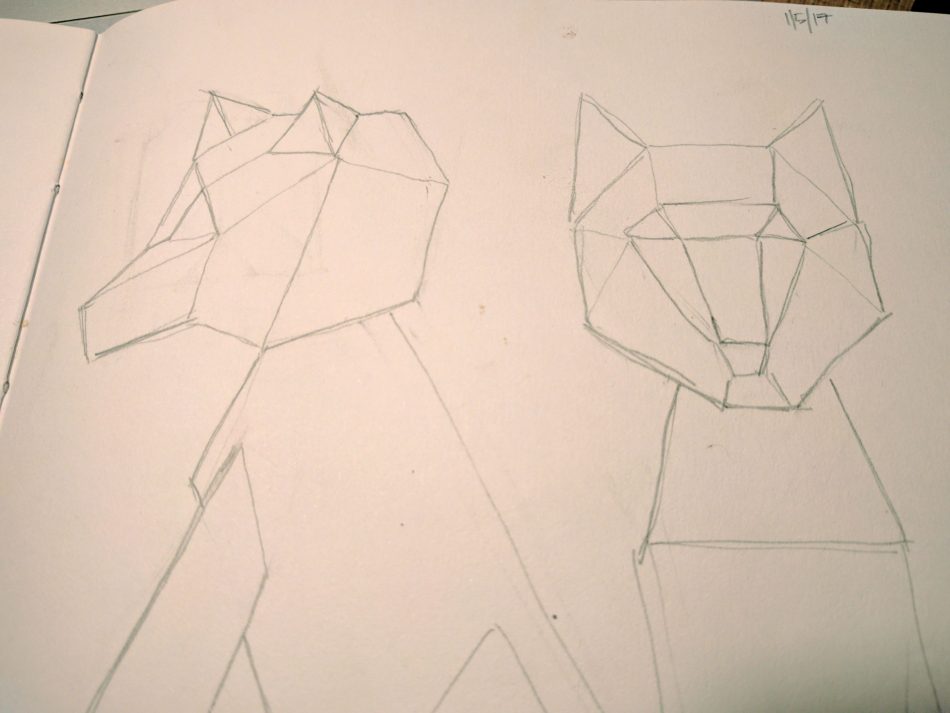 27 April, 2017
I have been finding that creating an origami dog is incredibly difficult and having discussed the possible outcomes with Enrico one afternoon that perhaps a more constructed structure that will hold it's size and shape would be something that I could consider. And I have to say, I don't disagree with him. The larger the paper the less structural integrity it will have, and finding a piece of paper, especially photographic, might prove difficult.
So I have been working on a few prototype shapes based on one particular origami dog shape that I like. It's been an interesting journey with cardboard, but it might work out ok. I might ask an industrial designer friend for some 3D rendering advise!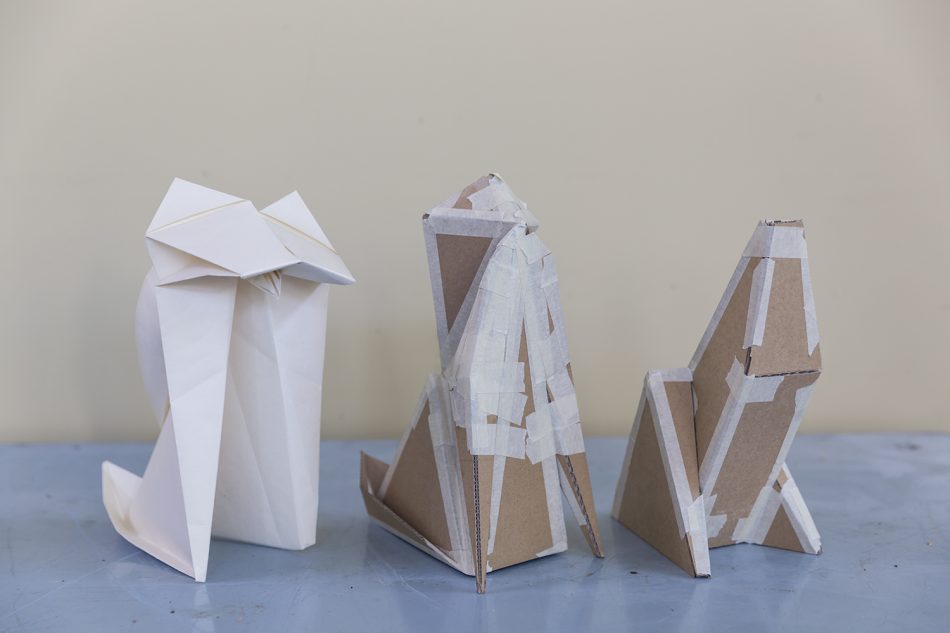 11 April, 2017
My hopes for liquid light have been dashed, at least for the moment. Not only does it require some kind of intuition to know whether you have applied the right amount of liquid light to the paper the day before, but it seems almost impossible to get an exposure on the paper that you can make out. So somewhat disappointing, but that is the nature of experiments! If I am to get it to work, lithographic film might be worth a try according to my research. I think I'll give it another try soon.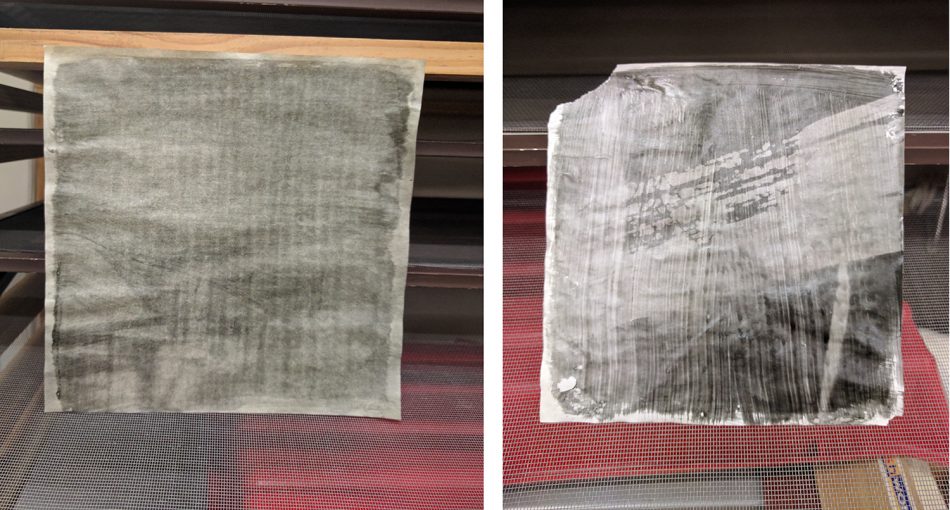 10 April, 2017
Today was a bit or a prep day in the studio. I pre-folded (into the dog designs below) a range of different pastel coloured washi papers and later coated them in liquid emulsion (no dilution). I will do some test prints tomorrow once the liquid light fully drys. Later, I did some more experimenting with folded resin-coated paper in the hope of getting a better exposure than in previous experiments. The results were much better this time and some interesting things happened which might catapult a new body of work.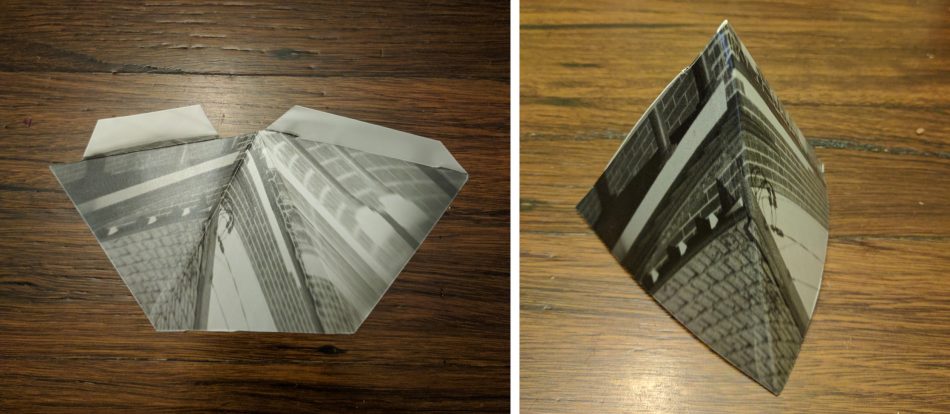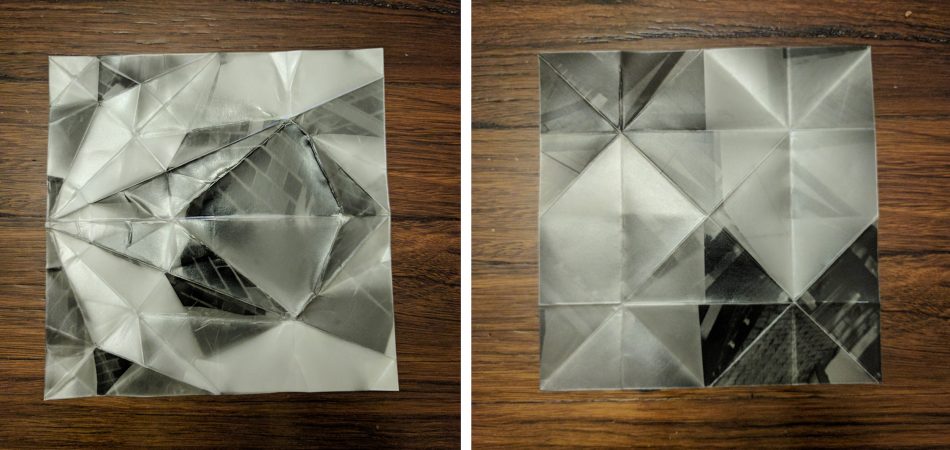 9 April, 2017
Practiced folding some found dog designs with fibre based photographic paper, resin coated paper and some news print with liquid emulsion. The fibre paper was almost impossible with a small 8×8 inch piece of paper, its very thick and the emulsion cracks when folded. Even when scored it didn't like to be bent, in the end I scored the emulsion with a knife which made it easier and stay folded. Resin coated paper was easier to fold when scored a few times but wants to unfold, previous test folds that have been under weight for a few days seems to stay folded nicely, some prep in the darkroom pre-folding and weighing down paper might need to be considered. Liquid light/emulsion paper folded with no dramas, might be the best option.

26 March, 2017
Since my last darkroom tute, I've spent some time copying origami patterns from YouTube tutorials. It's harder than it first seems, and if make it make sense for someone to later try it out may be an entirely different thing! Kudos to anyone who invents this stuff!
23 March, 2017
Yesterday was day 2 in the darkroom and far more productive. Basically, I have forgotten everything! But I think it is lurking in the dark corners of my mind and will resurface with a few more days practice. Enrico took me through the printing process once again, and we spoke a lot about exposures from the camera through to developing the final image. By the afternoon I had my first print in 10 years and decided to jump in the deep end and make some origami in the dark (nearly impossible) and print right onto the 3 dimensional shape. The results? Not as expected! But very interesting and abstract. It has sparked some other avenues to explore, so we will see where we end up!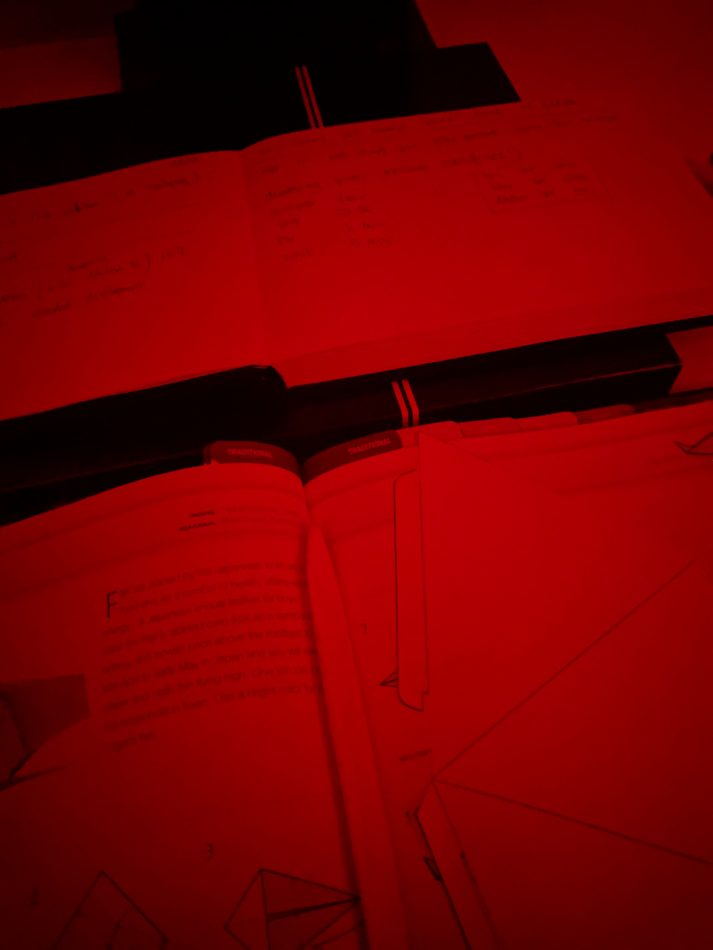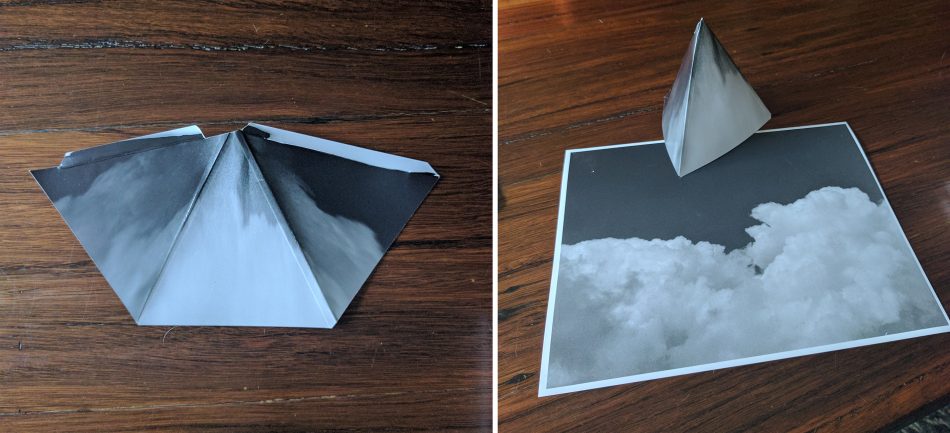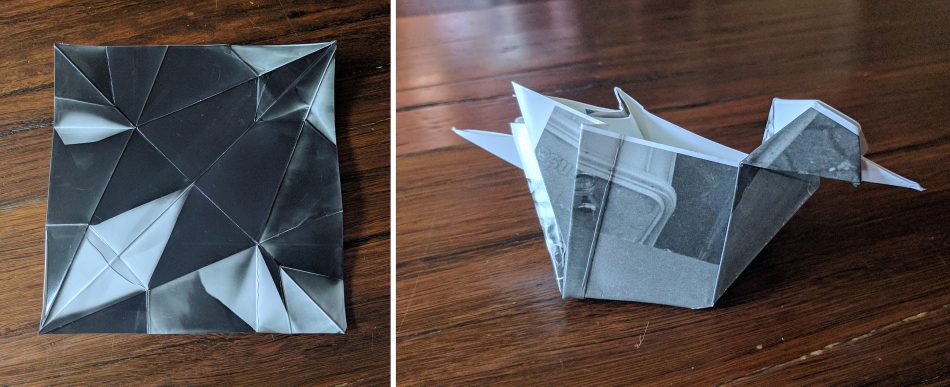 21 March, 2017
Today was my first darkroom day with Enrico at Think Negative  . There was a lot to re-absorb as I haven't been in a darkroom/processed my own film/printed an image in over 10 years. I had rolls of film from I-don't-know-when to develop, I remembered how to get them into the tank, I was concerned that there would be finger prints all over them (there was a lot of huffing and swearing in the dark) and I was in there so long that I was convinced I had night vision! In the end I got there and there are some interesting shots, and some great shots, and some beautiful shots that, even if I had tried, I couldn't replicate.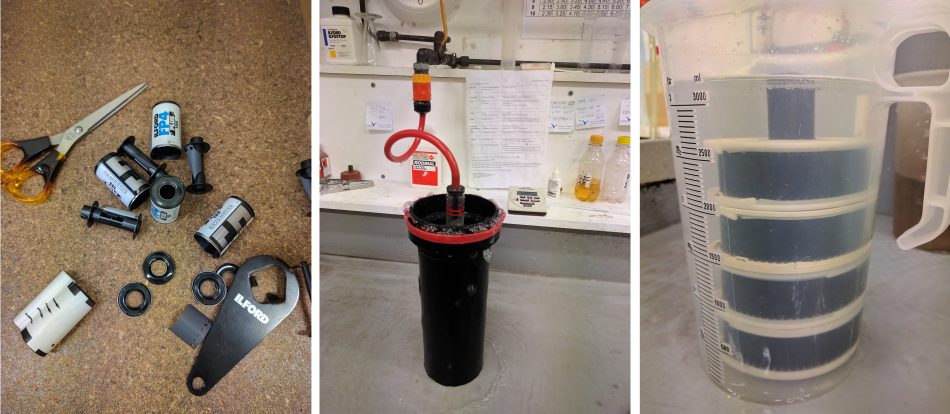 17 March, 2017
Another frustrating paper folding afternoon, BUT I am  making progress! With each new model I learn something new about working with paper, not just the paper cuts which are part of the deal but how far I push it before it breaks. To be fair it has pushed and broken me more times that I care to admit! But practice makes perfect apparently!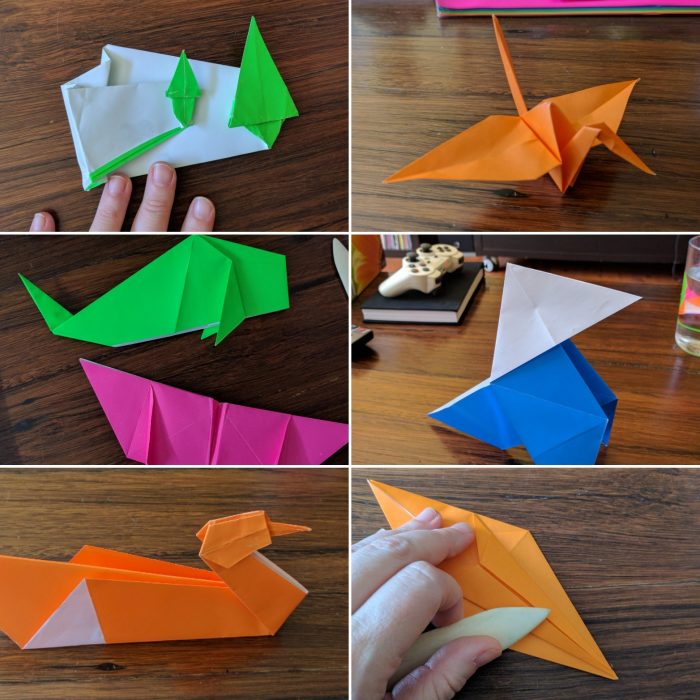 24 February,2017
It has been quite some time since I posted, and with the Christmas/New Year chaos everything got sidelined for a bit. But I am back on the wagon and have been practicing with a new book that I purchased recently. As discussed with Midori, maybe the initial plan of attack it to just practice anything and everything to get my head around understanding folding instructions and then master refining some other designs before attempting to change them. I found a fantastic dog pattern in a new book, but as predicted, way out of my depth, but I will keep trying, it will come together in the end!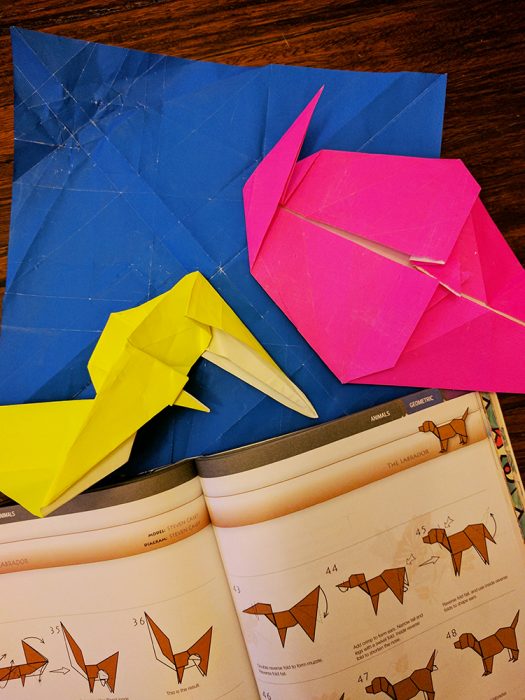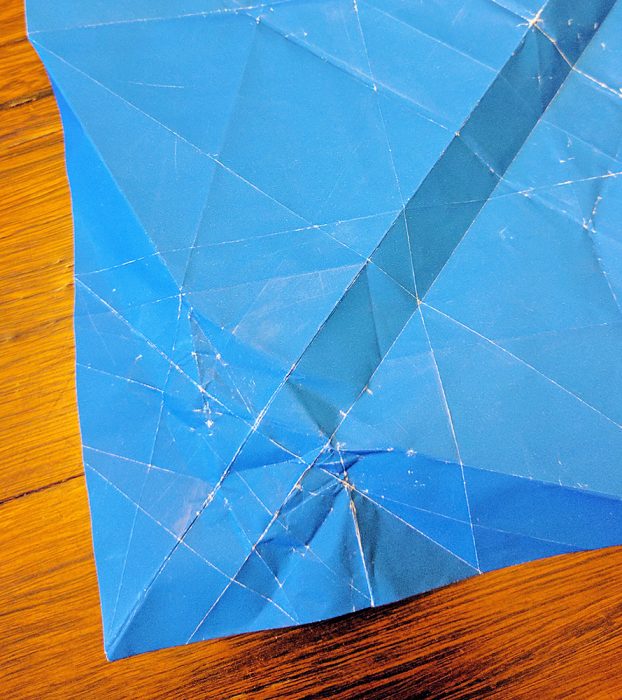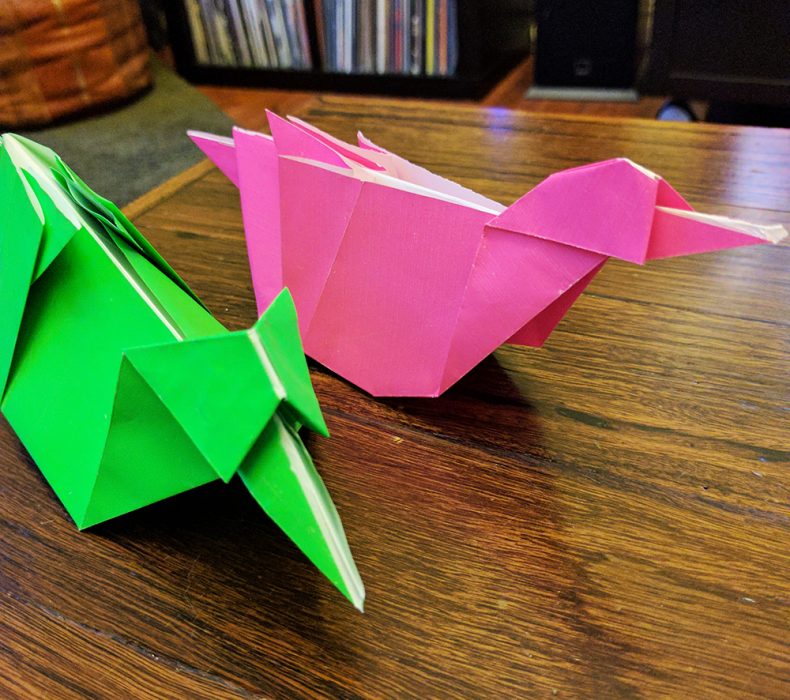 19 November, 2016
Today I met with my origami mentor Midori Furze for my first one on one to try and figure out some shapes and learn some techniques to help design the dog/wolf shape. We worked on some dog designs, and some traditional Japanese horse designs. It was a fun few hours where I spent most of it totally out of my depth!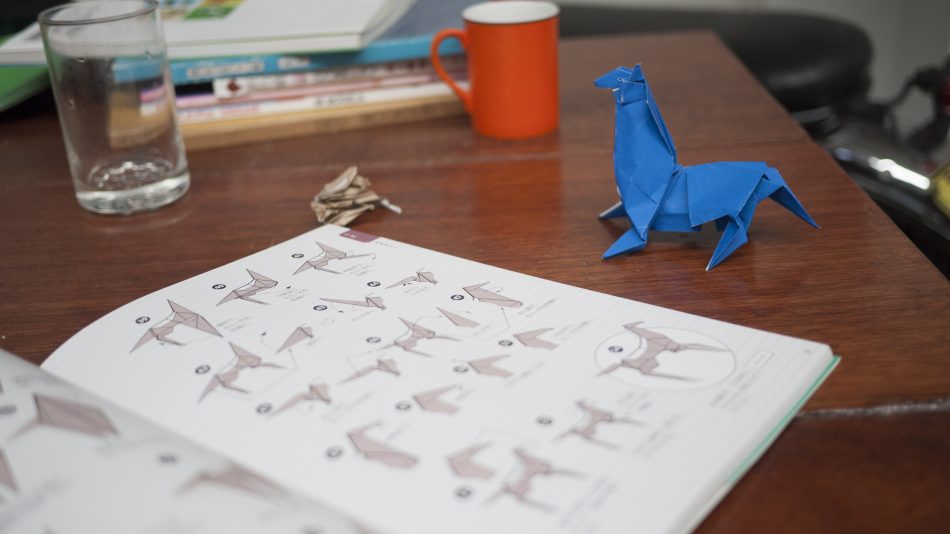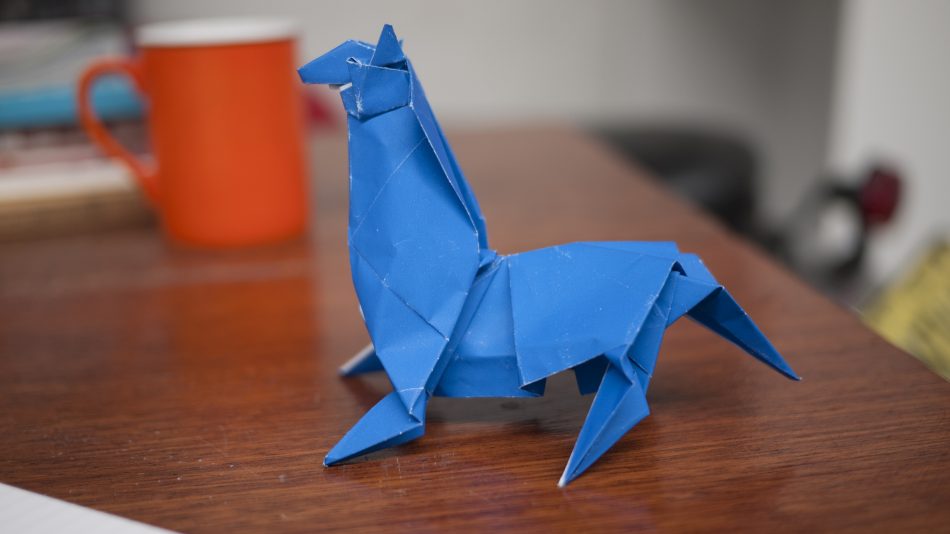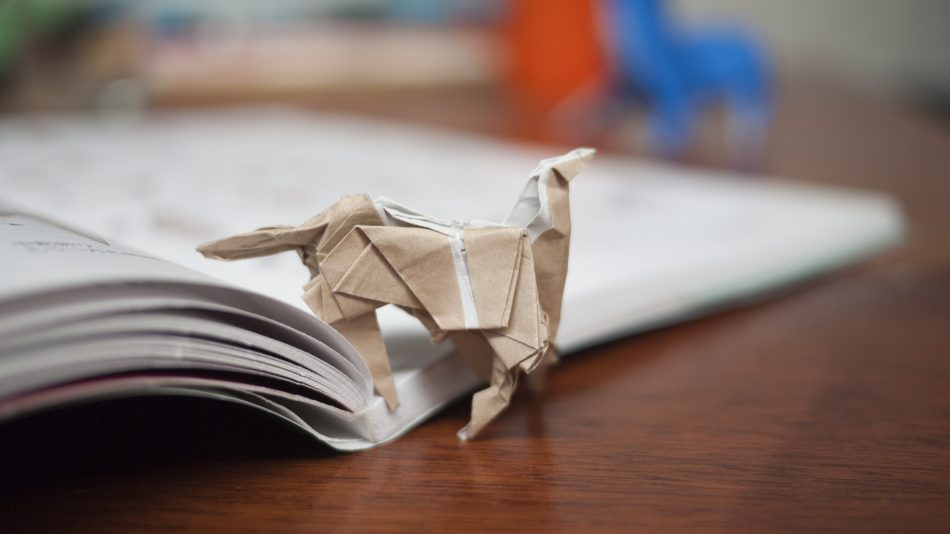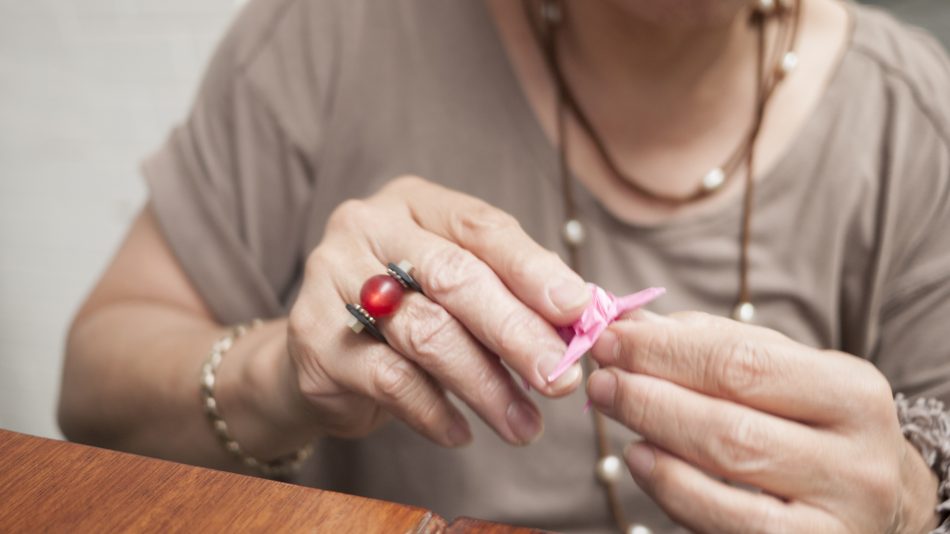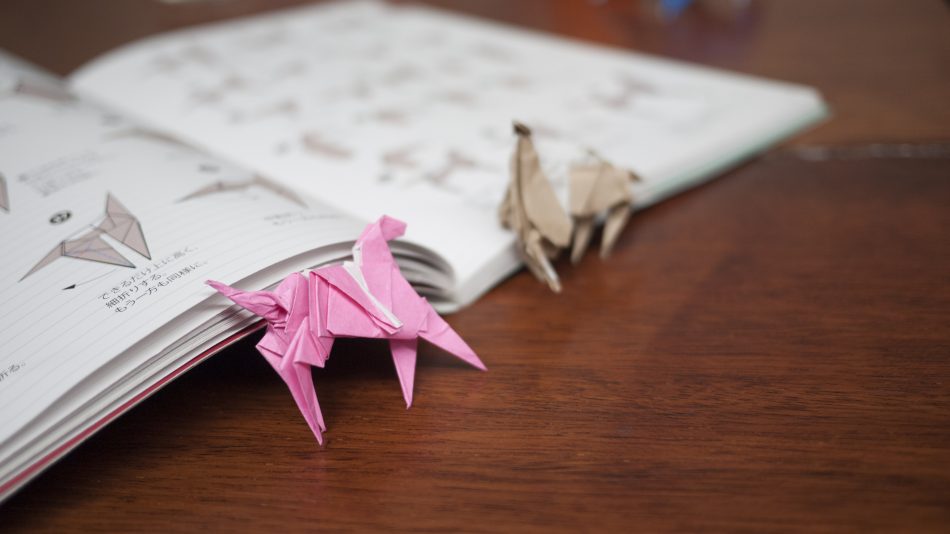 26 October, 2016
I am very excited to finally be getting the House Hunters project off the ground! This was a spark of an idea I had years ago and could never really see a way to make it a reality, but now is the time.
To explain a little more about what's going on:
House Hunters is a photographic and sculptural work stemming from science and looking at the evolution of a species starting with the Grey Wolf. To help me along with the development of the sculptural form for this work and mentor me in the art of Origami is Midori Furze, an extremely talented and respected painter and paper artist. This is an exciting opportunity to work in an artform I have not really had much experience with outside of basic hobby craft and to work closely with a talented artist from who, I am sure, I will learn a lot.
Later down the track the second part of my project will start to evolve. As I am mostly a photographer you may be wondering where that fits in. Well right now I have a few ideas to make these animals photographic paper sculpture, I am pushing some new ideas or the photographic form and I hope my ideas will work! I will be taking a step back to analogue photography for part (but hopefully all) of this project and will be working with Enrico Scotece as my mentor. Why analogue? I had my foundation in analogue photography, but just as I was starting out along came digital and it is now so good that I usually never think twice about using it. I have lost all my foundation skills. So, if I am going to create a new work with my hands, out of paper, fold and form it, then it seems natural that it should be black and white analogue photography. It will also give me the opportunity to reconnect and relearn a skill-set that once came very naturally.
I should also say that House Hunters is able to start thanks to the Inner West Councils Independent Artist Grant of which I have received some funding, this will really help it get off the found and find some momentum.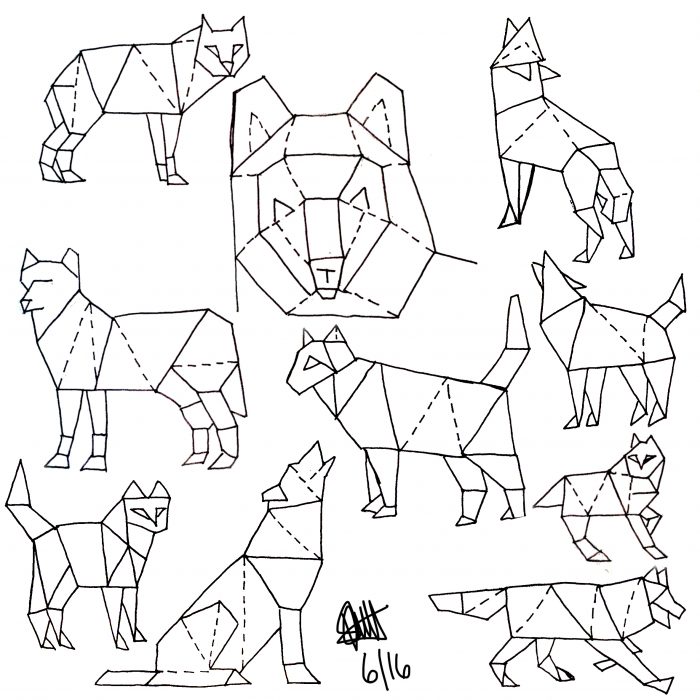 Sketch ideas for Wolf design, 2016